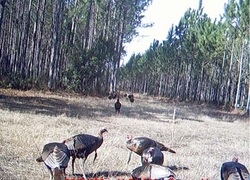 Wayne County's outdoors provides hunters an ample abundance of land for tracking and bagging trophy game. Without a doubt, the most anticipated time of the year for an outdoorsman is the southern zone firearm season for deer, which for 2006-07 begins on Oct. 21 and ends Jan. 15.

The Georgia Department of Natural Resources' Wildlife Resources Division (WRD) enforces game laws that are set by the state legislature. A season total of 12 may be harvested per person. However, no more than 10 of the 12 deer may be antlerless and no more than two may be antlered. One of the two antlered deer must have at least four points, 1 inch or longer, on one side of the antlers.


---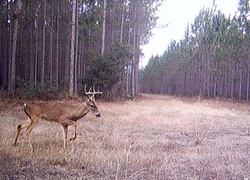 Also, dog hunting during deer season is permitted in Wayne County north of Hwy. 341, west of Beard's Bluff Road, north of Hwy. 169 and southeast of Hwy. 84.
The bear hunting season in the southern zone, which includes Wayne County, is firearms only and includes the dates of Sept. 28-30, Oct. 5-7 and Oct. 12-14. There is a one-bear limit.
Prior to the firearm deer season, Wayne County bow hunters can trek through the woods for archery season from Sept. 9 to Oct. 13. Primitive-weapons season for deer runs Oct. 14-20.
During the fall and winter months, Georgia's dove season is open Sept. 2-16, Oct. 7-16, and Nov. 23-Jan. 6. The daily limit for doves is 12. Several small-game animals, such as bobcats, crows, rabbits, foxes, opossums, squirrels, grouses, quails and raccoons, have seasons beginning in the fall and extending through Feb. 28, 2007. From March 24 through May 15 (in 2007), turkeys will be on the hunter's agenda.
Other small-game seasons are Dec. 16 to Jan. 14 for woodcocks and Sept. 7 to Oct. 13 and Nov. 14 to Dec. 5 for marsh hens.
Also, trapping season for minks, otters, foxes, opossum, muskrats, skunks, bobcats and weasels is Dec. 1 to Feb. 28.
The WRD permitted alligator hunting to resume three years in all eight zones across the state. In Zone 7, which encompasses Wayne, Appling. Glynn, Long, McIntosh, Tattnall and Toombs counties, the maximum number of permits to be issued is 85. The season runs from Sept. 9 to Oct. 1. The limit is one alligator per permit holder. Applications are due by July 31, 2006.
Additional information can be found on the Internet at
www.gohuntgeorgia.com
---