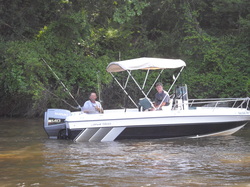 Wayne County's ample waters offer area anglers some of the finest fishing in the Southeast. Local fishermen have the option of setting their hooks in a vast number of ponds and lakes, as well as the Altamaha River.

A 65-mile stretch of the Altamaha, the largest watershed east of the Mississippi River, encompasses Wayne County's border to the north and east.

Fishermen may fill their stringers with bluegills, largemouth bass, catfish, shellcrackers, stripers, white perch, redbreasts and warmouths.

Gene Middleton of Ludowici caught the state-record flathead catfish in May 2000 in Morgan Lake. He landed the flathead on a rod and reel. The fish weighed 67 pounds, 8 ounces.

There are no federal, state or county parks connected with the Altamaha River in the county, but there are several public and private boat ramps and campsites. Several of the creeks that branch off from the main part of the river are privately owned or restricted to hunting club members.

The best-known public landing on the Altamaha River is Jaycee Landing, located off Hwy. 301 near the Wayne-Long county line. On the south side near Glynn County are the Altamaha Fish Camp and Paradise Park, and Williamsburg Landing is located near Gardi. Lake Bluff Landing is located on the Long County side near Jaycee Landing.

Near Hwy. 169 going toward Tattnall County are Upper Wayne County Landing. Off Hwy. 169 toward Madray Springs is Oglethorpe Bluff (also known as Pig Farm Landing). Also, Johnson's Station Landing, located under the bridge at Hwy. 84 on the Long County side of the Altamaha River, has been open since spring of 2002.

Other sites in Long County include the Long County Landing and Adams' Fish Camp, both of which are located below Upper Wayne County Landing.

Rangers from the Georgia Department of Natural Resources' Wildlife Resources Division patrol Wayne County. They will determine whether fishing licenses are current and whether legal equipment is being used They also make sure there is no boating under the influence of alcohol. The officer in charge for Wayne County is Sgt. D.V. "Bunny" Grantham.

Those who need DNR assistance may call Grantham at (912) 264-7237. His home number is 586-2863. Also available are Cpl. Billy Reed, whose home number is (912) 285-3834, and Ranger First Class Bobby White, whose home number is 586-2095.

---