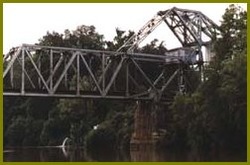 On Dec. 1, 1864, the Georgia Militia Fourth Brigade under Brig. Gen. H.K. McKay arrived in Wayne County to prepare a defense of the Savannah and Gulf Railroad bridge over the Altamaha River. The Rebels built earthworks on the north bank of Morgan's Lake, which is bisected by the railroad and located just north of the river. On the southern side of the river, two 32-pounder rifled guns were mounted at Doctortown (also spelled Doctor Town), to sweep the bridge if attacked. A light gun mounted on an engine supported two companies of Confederates at Morgan's Lake. On Dec. 16, Gen. W.T. Sherman, stalled outside Savannah, sent Union troops to destroy the railroad from the Ogeechee River all the way to the bridge. A brigade of Gen. Judson Kilpatrick's cavalry under Col. Smith Atkins attacked the bridge and destroyed trestlework past Morgan's Lake, but was unable to capture the bridge or seize the Confederate battery at Doctortown on Dec. 19. The Yankees withdrew to the Ogeechee River. A historical marker (U.S. 301 on the north side of the river) stands near the location of the Confederate victory. Local legend states that the original railroad bridge from the battle still stands in Doctortown, but some experts refute this. After the Civil War, one of the Rebel cannons used in the battle was spiked and loaded with a dangerous charge. It was defused and given to Waycross in 1887. Today, it stands in front of the Ware County Confederate Monument in Phoenix Park in Waycross. Travel north out of Jesup on U.S. 301, and turn right on Doctortown Rd.
---
December at Doctortown Living History Event
3rd Saturday in December

Sponsored by the Wayne County Historical Society
and
The Wayne County Board of Tourism
Living History encampment commemorating the Battle for the Doctortown Railroad Trestle December 18 – 22, 1864, the only Confederate victory on Sherman's March to the Sea.
Event hours – 12:00 p.m. – 3:00 p.m.
Early history tour – 12:00 p.m. at the historical marker
Life after the sawmill – 12:30 at the site of the commissary
Confederate funeral/memorial service – 1:00 p.m.
Cannon firing and camplife talks – 2:00 p.m.
Event takes place at the Doctortown Historic Site on Doctortown Road off Hwy 301 in Jesup, GA.
Please park in designated areas and walk to tour area. Handicapped accessible – event security will assist.
A railroad runs through it – please be aware of and listen for train traffic in the Doctortown area.
To read a little about the battle – Battle of the Altamaha Bridge is the Yankee name for the battle.
http://en.wikipedia.org/wiki/Battle_of_Altamaha_Bridge